The European Network of Holy Week and Easter Celebrations
Definition:
The European Network of Holy Week and Easter Celebrations will be formed as an international cultural association, which is non-denominational and open to all the religions and beliefs that commemorate the Passion and Resurrection of Jesus Christ and whose cultural heritage is a point of reference in their respective regions and/or countries.
Potential members:
Towns, regions, heritage sites, museums, historical memory centres based on this theme, social and cultural organisations, stable festivals, etc. belonging to member countries of the Council of Europe, where the phenomenon of Holy Week and Easter forms part of a historical tradition and is now a significant cultural and tourist resource.
Objectives:
To agglutinate the initiatives and work of all European agents interested in the topic of Holy Week and Easter celebrations and their modern uses as cultural heritage and a tourist product with economic and social impact in the countries of the 47 member states of the Council of Europe.
To articulate an institutional network of sites and institutions that work in coordination to foster and promote European cultural heritage related to this topic and its historical memory, seeking opportunities for international cooperation and to apply to European programmes in order to develop scientific, citizen, cultural and socioeconomic projects.
Essential project:
The central project of the European Network of Holy Week and Easter Celebrations, called Ways of Holy Week and Easter, aims to generate a long-term cooperation alliance and obtain recognition as a Council of Europe Cultural Route, as it clearly fulfils the criteria established in the Enlarged Partial Agreement of Cultural Routes (Resolution of the Council of Europe CM/Res (2013) 67) in order to be distinguished with this important European recognition (https://www.coe.int/en/web/culture-and-heritage/cultural-routes).
For this purpose, a non-profit making international association will be formed for legal organisations in all the Council of Europe countries that work in the recovery, conservation and dissemination of the Cultural Heritage (tangible and intangible) related to those European celebrations.
How to join the network
Features and technical details
The European Network of Holy Week and Easter Celebrations is open to all institutions that manage or work on this European Heritage, throughout the countries that make up the Council of Europe. The institutions can be public or private. Likewise, all the entities that study, protect, collaborate or disseminate the values of the Holy Week and Easter can be part of the network.
With the adhesion to this Network, the interested entities join to the CULTURAL ROUTE OF THE COUNCIL OF EUROPE Candidacy for all the elements that are included in this network.
The partners support the recognition of this Historical Heritage as part of the common heritage of the peoples of the Council of Europe, with cultural and tourist values accord with those contained in the Council of Europe's Extended Partial Agreement on Cultural Routes (https://www.coe.int/en/web/culture-and-heritage/cultural-routes) .
1st. The letter of Adhesion is sent to the network, which responds to the interested party in a short period of time.
2nd. Upon acceptance as a new partner, a Government agreement must be sent certifying the adhesion of the petitioner, which it is incorporated – as a full member – at the first Assembly of the Association.
Documents must be fullfilled and sent to info@caminosdepasion.com   
FAQ
The Council of Europe Cultural Routes Programme is a project governed by an Enlarged Partial Agreement, with the participation of the Council of Europe, the European Commission and as many as 31 states (new countries join every year). It is governed by the resolutions of the Council of Ministers/Res (2013) 66 and 67, of 18/12/2013, confirming the Enlarged Partial Agreement on Cultural Routes, signed in 2010.
The central aim of this programme is to contribute towards the promotion of European citizenship and identity through an awareness of the common heritage of Europe and the development of cultural links and dialogue in Europe and with other countries and regions. It seeks to shape a common cultural space by instigating cultural routes in order to encourage awareness of heritage, education, the creation of networks, sustainable cross-border high-quality tourism and related activities.
A Council of Europe Cultural Route is a cooperation project in the field of Cultural, Educational and Tourist Heritage in Europe, aimed at developing and promoting one or several routes based on a historical way of communication, a cultural concept, a person or a phenomenon with international importance and significance for the understanding and respect of common European values. It may be a physical route or a network of heritage sites. A total of 31 Cultural Routes, devoted to various aspects of Cultural Heritage (architecture, art. prehistory, historical persons, religious routes, traditional cultures, etc.), are currently recognised by the Council of Europe.
"Council of Europe Cultural Route" Certification:
It's the certification awarded to the projects that satisfy the criteria outlined in CM/Res (2013) 67 dated 18/12/2013.
What are the advantages of the mention?
– Certification is free and is a recognition backed by the Council of Europe.
– It is a high-quality distinction for Cultural Heritage and tourism.
– It affords visibility and prestige at an international level.
– It facilitates the development of networks and contacts at regional and international levels.
– Training programmes are held for professionals.
– Joint activities are held among institutions and networks.
– The recognition is well-known and has established partners to be able to apply for European funding (Interreg, Cosme, Erasmus, etc.).
Holy Week and Easter Heritage as a Cultural and Tourist resource
Extensive cultural heritage in Europe is related to Christian celebrations of Holy Week and the Resurrection. Over the centuries or even millennia, practically all the large churches in the Christian world have created iconography full of symbolism and mysticism. At the same time, popular traditions are more prosaic but full of wisdom and attractions. Indeed, all together, the artistic expressions and customs carried out in the celebrations form one of the most outstanding tangible and intangible cultural traditions in Europe.
Imagination, music, architecture, ornamentation in churches and towns, craftwork, gastronomy, even the processions and marches that take place during the celebration are a good example of the size and quality of this cultural treasure that each year appears on the streets of towns and cities all over Europe, with solemnity, beauty and fervour that rarely disappoint. Additionally, numerous works of art and expressions of this heritage are designated as World Heritage by UNESCO.
In addition to the processions of all kind that take place in nearly every country with a Christian tradition, we can mention bell-ringing in France; the children's custom of making nests of leaves, moss or grass (where a bunny will leave Easter eggs) in Germany; decorated Easter eggs in practically the whole continent; Easter markets in Austria, Holland, Belgium and Alsace (France); the spectacular processions of sculptures in Spain and Italy; Orthodox rituals in Greece and Russia, and traditions related to fire and the family in Protestant countries, among other attractive events.
Therefore, the celebrations (of all kinds) that take place today are undoubtedly a tourist attraction of enormous importance in countless places and European regions, where these events reach beyond the religious dimension and become a cultural and social phenomenon of great significance and impact in the local economies. They are a high-quality tourist resource that, at the same time, favours inter-religious and inter-cultural dialogue among people from all over the world.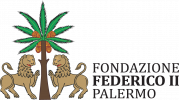 Fondazione Federico II Palermo (Sicilia, Italy)
The Federico II Foundation, established on 9 December 1996; Is a cultural and informative institution of the Sicilian Regional Assembly. Named as the monarch who in the thirteenth century made Sicily the cradle of letters and arts in addition of being able to integrate the ethnic and cultural diversity present in the island. The Federico II Foundation has the task of enhancing the cultural heritage of Sicily and its artists.
Asociación para el Desarrollo Turístico de la Ruta Caminos de Pasión (Andalucía, España)
The Ways of Passion Cultural Route is a tourist route which integrates the historic and heritage wealth of the towns forming it by offering a series of tourist products aimed at visitors interested in discovering the symbolic significance and ancient traditions of Holy Week in the heart of Andalusia. After over 16 years of work and experience, this route aims to extend its network to the rest of Europe in order to develop international cooperation projects and establish a European Cultural Route.
2ND FORUM EUROPEAN HOLY WEEK AND EASTER CELEBRATIONS NETWORK IN BRAGA
The initiative "European Network for Holy Week and Easter Celebrations" will be officially constituted during the coming meeting in Braga (Portugal) on 18 and 19 March, as part of the network's 2nd Forum.
Representatives from Portugal, Spain, Malta, Slovenia and Italy will be the founding members of the initiative, which will promote religious celebrations as the backbone of heritage and European identity.
Provisional Programme (Download PDF)
Information About the forum (PDF)
Participation Form
1st Forum on Holy week and Easter celebrations for Municipalities and Regions
We would like to kindly invite you to join this initiative that we hope will connect all the towns, region, routes, places and any form of association that aims to manage and promote the cultural and/or tourist interest of the Holy Week and Easter celebrations of the different Christian Churches in Europe. A stable cooperation association will be formed in order to obtain certification as a European Cultural Route for our places and events. At the same time, this cooperation will enable the development of joint projects in the fields of cultural cooperation, sustainable tourism, inter-cultural and inter-religious dialogue and the promotion of the values of our traditions and celebrations.
We therefore invite you to take part in the Forum to be held in Lucena (Andalusia, Spain) on 11 and 12 September.
Provisional Programme (Download PDF)
Information About the forum (PDF)
Participation Form
Countdown to the 1st Forum on Holy week and Easter celebrations.